Pressure washing can make your home or commercial property shine again.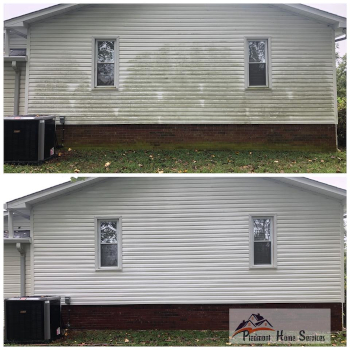 Pressure washing is one of the most well-known methods of cleaning outdoor and exterior surfaces. Pressure washing uses high-pressure water to blast away dirt, grime, insect nests, and more. Using a high-pressure stream of water can even blast away surface stains, making your exterior surfaces appear new again!
At Piedmont Home Services, we offer pressure washing for residences and commercial properties in Advance, North Carolina. Our team provides the best cleaning and property maintenance solutions with a high level of customer service and workmanship. We know how much of an impact the exterior appearance of your home and business has, not to mention that keeping it clean and well-maintained will extend the life and longevity of your surfaces.
We use pressure washing for homes and buildings, walkways, driveways, patios, and so much more to obliterate dirt and germs that have accumulated on the surface. Pressure washing is effective and a great choice for protecting nearby vegetation and wildlife, since it only uses water. Pressure washing is also an ideal solution for hard-to-reach or oddly shaped areas. By keeping your home, commercial property, or other exterior surfaces clean, it boosts curb appeal, increases the value of the property, and is more inviting to guests and customers.
If you are looking for a great team that wants to make your exterior superior, reach out to us. We love to provide top-notch service and workmanship to deliver excellent results. Give us a call today with any questions or to schedule with our skilled team!
---
At Piedmont Home Services, we offer pressure washing services in Winston-Salem, Advance, Kernersville, Pfafftown, Lewisville, Clemmons, and Bermuda Run, North Carolina.
Similar Services We Offer: