Keep your business looking great through pressure washing.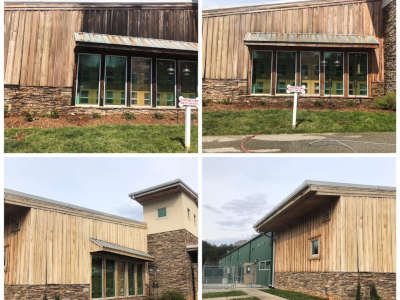 You never get a second chance at a first impression. That is one reason why you should always keep the exterior aspects of your business, including parking lots, walkways, and other areas, looking their very best. One way you can do that is through commercial pressure washing. This will help potential customers notice your business and see how it stands out from others.
There are several other benefits of commercial pressure washing that you should consider, such as:
Save on Repairs– When exterior materials are exposed to moisture, mold and mildew could grow on them without you even noticing. If this continues to go unnoticed and you don't clean it off, it can lead to decay and other damage. Commercial pressure washing will help prevent mold and mildew from growing, which can save you money on repairs.
Healthy Environment– Keeping exterior surfaces clean helps prevent contaminants, such as mold and mildew, from being tracked into the building. This helps keep both customers and employees healthier.
Less Maintenance– Regular power washing helps reduce some of the maintenance needed around your building.
At Piedmont Home Services, we offer both commercial pressure washing and soft washing, so we can safely clean your building and other exterior materials, no matter what they're made of. Serving the Winston-Salem, North Carolina area, we want to help keep your business looking its very best so that you will be able to attract more customers. We recommend having commercial pressure washing and/or soft washing done every few months in order for your building to stay clean and healthy. Give us a call for all of your commercial pressure washing and soft washing needs.
---
At Piedmont Home Services, we offer commercial pressure washing services in Winston-Salem, Advance, Kernersville, Pfafftown, Lewisville, Clemmons, and Bermuda Run, North Carolina.