We provide exceptional driveway cleaning services for your home or business.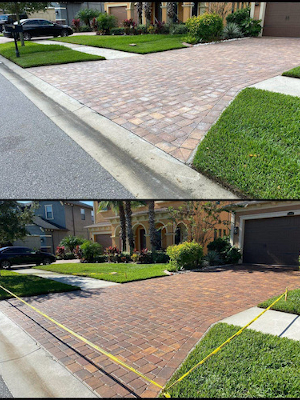 Driveways bear a heavy load, and keeping your driveway maintained can go a long way in extending its lifespan. A great way to maintain your driveway is with driveway cleaning. At Piedmont Home Services, we provide driveway cleaning for homes and businesses in Winston-Salem, North Carolina. We recognize the importance of your driveway and that damage can be costly to repair.
Driveway cleaning functions to maintain your driveway by eliminating substances that can corrode or eat away at the surface. Regular cleaning will also eliminate weeds. Weeds will extend their roots below the driveway and, if left unchecked, can cause cracking and extensive damage. Driveway cleaning can also address safety hazards from leaking fluids from your automobile and also naturally occurring mold and mildew that can be a cause of concern.
These substances can also cause a slippery surface, reducing the natural friction of your driveway surface. Stains are inevitable on your driveway, as almost every vehicle will leak some type of fluid at some point. Driveway cleaning will help reduce or eliminate staining to give your driveway a clean, well-kempt appearance.
Our team uses a couple of different methods for driveway cleaning, depending on your needs. We offer both pressure washing and softwashing to clean away dirt, grime, mold, mildew, algae, fungi, stains, and automotive fluids. We will leave behind a clean surface that will improve your home value and curb appeal and provide a safer surface.
If you are in need of driveway cleaning, please contact us. We would love to provide exceptional service and top-notch workmanship to clean your driveway and extend its life. Give us a call today to see how we can help make your home's exterior superior!
---
At Piedmont Home Services, we offer driveway cleaning services in Winston-Salem, Advance, Kernersville, Pfafftown, Lewisville, Clemmons, and Bermuda Run, North Carolina.