Get rid of cobwebs, mold, and other nasty things through residential pressure washing.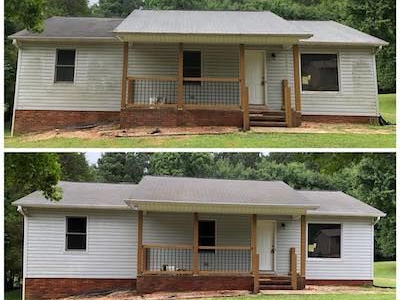 The exterior of your home is often the only impression that others get of your home. If you want to increase curb appeal and keep the exterior of your home looking great, you should look into residential pressure washing and soft washing. Not only will these methods keep your home's exterior looking it's best, but it can also benefit you and your home in other ways.
Cobwebs– Do you want people to see cobwebs all over the sidewalk or driveway when they approach your home? It definitely does not give the best impression of cleanliness. You can easily rid your property of these things through residential power washing.
Mildew and Mold– Areas that are more exposed to moisture are susceptible to mildew and mold growth. This can lead to damage and health problems for you and your family. Residential power washing and soft washing actually help prevent mold and mildew from growing, as it keeps the problems areas clean.
Time- Cleaning your driveway, patio, walkways, and other areas of your property can take up a lot of time, especially if you are doing it all by hand. Having these areas pressure washed is a quick and thorough solution, so it ends up saving you a lot of time.
Residential pressure washing is one of the services we offer at Piedmont Home Services. We serve the Kernersville, North Carolina area and recommend asking us to pressure wash and/or soft wash your home's surfaces once or twice a year. Give us a call  to schedule your appointment for residential pressure washing or soft washing today!
---
At Piedmont Home Services, we offer residential pressure washing services in Winston-Salem, Advance, Kernersville, Pfafftown, Lewisville, Clemmons, and Bermuda Run, North Carolina.