We can gently and effectively clean your exterior surfaces.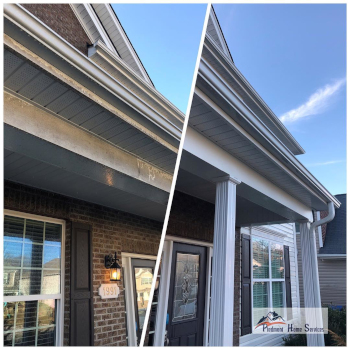 Taking care of your home is an important part of home ownership. By performing regular maintenance and upkeep, you not only keep your home looking great, but you also protect the building materials from premature degradation and issues. Softwashing is a great way to keep your home and surrounding property clean while protecting your exterior surfaces.
Softwashing is a gentle cleaning technique that uses a biodegradable cleaning solution and low-pressure water to not only clean, but also sanitize exterior surfaces. The solution emulsifies dirt, grime, algae, fungi, mold, and mildew to leave behind a truly clean surface. This method of cleaning is gentle enough for any surface, including your siding, roof, gutters, windows, driveways, patios, walkways, fences, and more.
Softwashing is a great option to use less water, and our cleaning solution is safe for children, pets, vegetation, and other wildlife. The surface will be clean and sanitized after washing, and the results can last up to six times longer than other cleaning methods. By removing offending microorganisms and dirt from your exterior surfaces, you extend the life of your property while keeping it looking great.
At Piedmont Home Services, we offer softwashing services for homes and commercial properties in the Lewisville, North Carolina area. We have been in business since 2011 and love to help solve problems and make your exterior superior. Our team provides the best cleaning and property maintenance services in the area with excellent service. We truly care about each of our customers and want to help you optimize your home or commercial property. Give us a call today to schedule with our team or get answers to your questions.
---
At Piedmont Home Services, we offer softwashing services in Winston-Salem, Advance, Kernersville, Pfafftown, Lewisville, Clemmons, and Bermuda Run, North Carolina.