If you are looking for someone to help you with a deck restoration project, turn to our experts.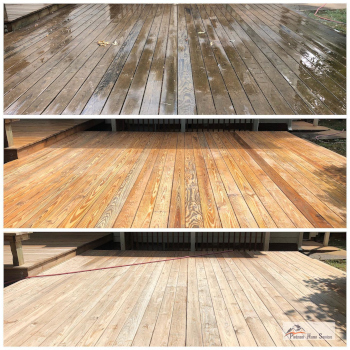 While decks provide a great place to relax and enjoy the fresh air, they do come with some downsides. One of those downsides is the amount of maintenance they require—if you want to keep your deck in great shape, you will need to perform regular maintenance such as restaining. If your deck is looking worse for the wear, you can turn to our team at Piedmont Home Services to get the deck restore services you need.
When you turn to our deck restore experts, we will first thoroughly examine your deck to see what shape it's in and determine what problems need to be addressed. For example, we may need to replace rotten boards or simply give the deck a good cleaning to get rid of the dirt, grime, and algae. Once we have addressed the most pressing issues, we will focus on restoring your deck's appearance.
After cleaning your deck, our team will sand the boards, apply an even coat of stain to enhance the wood's color, and finally apply a high-quality sealant to protect the wood from moisture damage. Of course, you will need to continue to maintain your deck after the restoration process is complete in order to keep it looking great, but our team can help with that as well.
Our team is proud to serve the Kernersville, North Carolina community, and we want to help you keep your deck in great shape. If you are looking for deck restore experts you can count on, just give us a call.
---
At Piedmont Home Services, we offer deck restore services in Winston-Salem, Advance, Kernersville, Pfafftown, Lewisville, Clemmons, and Bermuda Run, North Carolina.